Niagara Falls Tourist Attractions
There are so many memorable ways to spend your time enjoying Niagara Falls many tourist attractions. If you enjoy nature, then you will love a hike down into the gorge. History your thing, then explore Ft George, Ft Erie or Ft Niagara.

- Advertisement -
There are so many different choices among Niagara Falls many tourist attractions. Here is a sample . . .

The area is rich in both Canadian and American history as this was a setting for a number of key clashes between the US and the British and Canadian forces during the War of 1812.
There are many museums and exhibits to tempt you and of course there are three casinos if you are feeling lucky.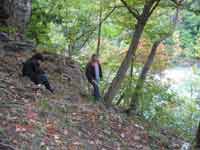 US Attractions
With so much to see and do, you can see that you will not run of things that you want to experience during your visit to this area.

If you are in the planning stages don't forget to check out the links to some very highly recommended places you can consider staying in.
These accommodations are highly rated by TripAdvisor visitor reviews and are listed by their price rating categories:
To leave Niagara Falls Tourist Attractions and continue planning your trip, here is an easy click back to the home page.