Cheap Hotels Niagara Falls
Can you find Cheap Hotels in Niagara Falls? You sure can if you know where to look. There is so much you can choose from that you don't just have to go by price. There are, of course, an excellent selection of luxury hotels and many popular mid priced hotels as well. I have gathered some excellent choices here that are all highly recommended by happy customers.
- Advertisement -
Working with TripAdvisor, these choices are all highly ranked in customer satisfaction. Just click a selection and be pleasently surprised as you can see for yourself why staying in Niagara does not have to be too hard on the pocketbook.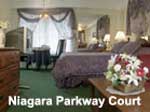 Niagara Parkway Court
Insider Tip: It can make a big difference when you choose to visit Niagara. Room rates and other costs fluctuate quite a bit with the season. July and August are the busiest so please reserve ahead. Be careful you check all the costs and rates to make sure there are no unpleasant surprises when you get here.
What's your favorite Cheap Niagara Falls hotel?
Found a special place your really liked? ... and saved you money. Share your story, tip or review about the cheap Niagara hotel that you love!
Here's some awesome pages for you to see:

To leave Cheap Hotels Niagara Falls Canada and discover more of Niagara, check out Home Page.