Screamer's
Screamer's Haunted House
Afraid of the Dark. Then this is not the place for you. If not . . .
. . then come and experience a terrifying ordeal. With over 47,000 chickens and over 500,000 visitors, this is a popular and scary attraction.
- Advertisement -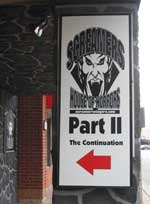 Watch out for the Screamers transport truck as it barrels down the hallway and be sure to keep away from 'Tony the Tongue'. And if it gets too scary . . .
just yell out "Screamers" and the nightmare ends.
. . . but you do get added to the evergrowing Chicken List.
Check out the Combo pass to see how you can save a lot
http://www.screamersniagara.com/index.htm
Location:
5930 Victoria Ave (at Magdalen), Niagara Falls,
Ont L2G 3L7
(905) 357-7656
Hours:
Mon-Thurs 5pm - 11pm
Friday 12pm - 1am
Saturday 11am - 2am
Sunday 11am - 11pm
Cost:
Adults $14.99
Kids 12 and under $11.99
Not Recommended for children 10 yrs and under.
Wheelchair accessible