School of Horticulture
School of Horticulture - This unique alternative to post-secondary education has a highly acclaimed residential school for apprentice gardeners accepts only 12-14 students per year to its 3-year program.
- Advertisement -
It was created in 1936 and is run by the Niagara Parks Commission. Their mandate- to develop and maintain approx. 4,250 hectares (4,250 acres) stretching along the length on the Niagara River from Fort Erie to Niagara-on-the-Lake.
And boy, do they do a good job. They are responsible for the Botanical gardens, Queen Victoria Park, the Niagara Greenhouse, Queenston Park and lots and lots more.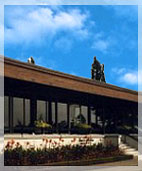 If you are interested in finding out about the program, Contact the NPC at:
Niagara Parks Botanical Gardens School of Horticulture,
P.O.Box 150,
Niagara Falls,
Ontario
L2E 6T2
To leave this page and discover more of Niagara, check out Home Page