Ripleys 4D Theatre
Ripley's 4D Theatre - This is something you won't soon forget. Dynamic 6 channel surround sound system and a giant 70 mm screen powers you into the picture where you actually move with it and feel every dip, bump and turn. Your seat moves in 8 directions.
- Advertisement -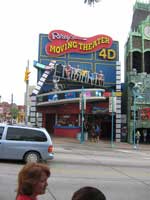 Its 3D technology with 4D effects. Experience the motion simulator, as special wind, snow and mist effects make this a truly memorable ride.
Afterwards, head across the street and check out the Ripley's Believe It or Not Museum if you like the strange and unusual.
Location:
4983 Clifton Hill,
Niagara Falls, Ont
(905) 356-2238
Hours:
Summer 9am - 2am daily
Spring/Fall 10am - 10pm
Winter 11am - 7pm - Sunday to Thursday
11am - 10pm - Friday and Saturday
Open 365 days a year.
Cost:
Regular
Adults $15.81
Seniors $16.09
Kids up to 12 $9.03
PERSONS UNDER 43" NOT ALLOWED TO RIDE