Queen Victoria Park
Queen Victoria Park - This lovely park surrounds the Canadian side of the Horseshoe Falls.
- Advertisement -
In Spring, there are daffodils, tulips, magnolia trees and other spring bloomers
In Summer, look for fuschia, lantana standards, cannas, coleus, and many other favorites.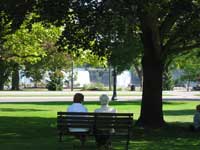 In the Fall, Chrysanthemums and kale are prominent.
In the Winter, nature creates it's own special display. The mist from the Falls forms a layer of ice on the trees and shrubs surrounding the Falls. With the nightly illumination of the parks, the trees just seem to sparkle.
Admission: Free
Schedule: Open year round
People Mover Stop # 20 and # 4
Facilities: Birding, wheelchair accessible, shopping, snack bar and restaurant.
To leave Queen Victoria Park and discover more of Niagara, check out Home Page