Oakes Garden Theatre
Oakes Garden Theatre was built in the form of an amphitheatre back in 1936. By encorporating the contours of the landscape, a fan shaped pergola was constructed.
- Advertisement -
The amphitheatre is landscaped with rock gardens, lily ponds and decorative shrubs with formalized gardens in the center.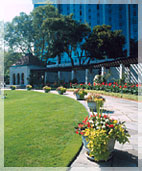 Queenston limestone forms the parameter, while ornamental iron gates formalize the entrance to the Queen Victoria Park.
It all adds up to a very pleasant addition to the whole area around the Falls.
The theatre is put to good use besides offering a nice backdrop. There are concerts hosted here throughout the year.
Admission: Free
Schedule: Open year round
Location: Outdoors
People Mover Stop #19 and #5