Movieland Wax Museum
Visit Movieland Wax Museum's new, much larger location at the bottom of Clifton Hill. It is like a walk through entertainment history.
- Advertisement -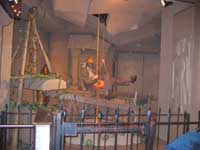 You will find your favorite movie, television and recording stars set in their most memorable movie scenes. There is everything from 'Indiana Jones' and 'The Wizard of Oz' to current hits like the 'Matrix' and 'Oceans 12'.
Bring your camera... take a shot with your favorite star... then try and keep a straight face later when you show others who you met on your vacation.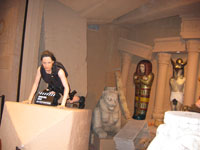 If you like you can have your hand made in wax. Couples can even have their hands done together... a unique souvinier.
Location:
Clifton Hill,
Niagara Falls, Ont
(905) 358-3676
(905) 358-3061
Open year round
Cost:
Adults $10.99
Kids $6.99
Under 3 Free