Marineland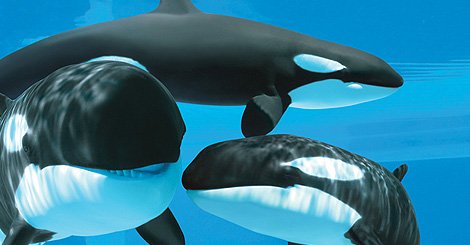 Marineland is one of the most established attractions in Niagara Falls. There are dolphins, beluga and killer whales, sea lions and walrus to see, and in some cases, to feed.
- Advertisement -
Interact with deer, buffalo, thousands of fish, and more. And if you like thrilling rides, look out for the Sky Screamer and the world's largest steel rollercoaster, Dragon Mountain.
King Waldorf Stadium
Sit back and watch the dolphins as they perform bows and flips. The adorable walrus will bring a smile to your face, while the sea lions outwit their human companions.
Artic Cove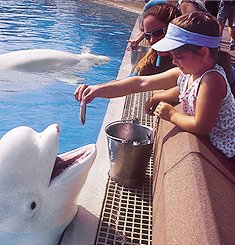 Get up close and personal with the beluga whales. Watch them through huge underwater viewing windows. Or get closer still as you can touch and feed these friendly white whales.
Friendship Cove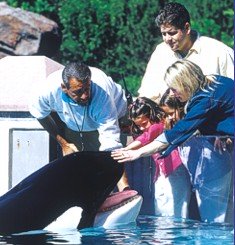 Despite their name, killer whales can be quite friendly and affectionate. See for yourself as here you can touch and feed these fascinating ocean giants.
Thrilling Rides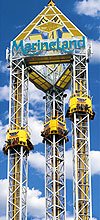 There are lots of rides here at Marineland that you can ride over and over and over again. Here are the two scariest ones. Are you ready for the world's highest triple tower ride, the Sky Screamer. You get a spectacular view of the Falls and surrounding area from 137.5m/450ft. In between, you are being launched up and down at speeds up to 96km/60mph.

And if you have a really strong stomach, try the world's largest steel roller coaster, Dragon Mountain. Zip in and out of 1.163ft of tunnels as you fly around over 30 acres of land.
More Family Fun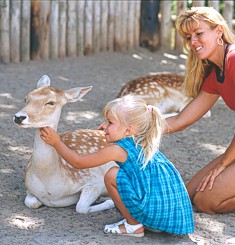 There are a lot of wildlife to see and interact with. Touch the fur of a deer, come nose to nose with a buffalo, feed thousands of fish at the fish feeding lake, admire magestic elk, playful black bears and more.
There is so much to do that if you have the time, consider getting a season's pass ($5 extra when purchasing your ticket)
Current Admission Rates and Times:
Regular Rate ( 10+ yrs. ) $44.95 CDN
Child ( 5-9 yrs. ) $37.95 CDN
4 years of age and under are FREE. Parking is FREE.
Admission booths are open 10:00 a.m. to 5:00 p.m. daily.
Park attractions continue to operate until nightfall.
Shows are presented at regular intervals throughout the day. Check park map upon arrival.
Directions
Location: 7657 Portage Road, Niagara Falls Ontario, Canada
Marineland is easily accessible from anywhere. We are located one mile from the Horseshoe Falls in Niagara Falls at 7657 Portage Road
From Toronto/Hamilton:
Follow Q.E.W Niagara and Q.E.W Fort Erie to the McLeod Road Exit. (Please be sure to remain on the Q.E.W. Do not follow Highway 420 and Bridge to U.S.A route or you will miss the McLeod Road Exit). At the traffic lights at the end of the McLeod Road exit ramp, turn left and follow the "Marineland" signs.
From the Rainbow Bridge:
Follow Hwy. 420 to Stanley Avenue. Turn left at the traffic lights and continue to the end. Turn left at traffic lights and follow the "Marineland" signs.
From the Peace Bridge:
Follow Q.E.W. Niagara to Lyons Creek Road Exit and turn right. Follow Lyons Creek Road to Stanley Avenue and turn left. Follow Stanley Avenue to end (Marineland Parkway) and turn right at the lights.
Alternate:
Follow Q.E.W. Niagara to McLeod Road Exit and turn right. Follow the "Marineland" signs.