Kings Bridge Park
Kings Bridge Park - Just 5 minutes upstream from the Falls is King's Bridge Park, by the former village of Chippawa.

- Advertisement -
This spot is a favorite all summer long with . . .
Playground facilities-
wading pool for children
picnic pavillions and lots of picnic tables
easy access to the Niagara River Recreational Trail for hiking and biking
Parking is $10 during the summer.
Chippawa Creek borders the park
Chippawa Creek is a popular local swimming area but beware of the strong current. Strong swimmers only.
It is here that the Niagara River and Welland River meet. Chippawa was a thriving commercial center at the turn of the century. Ships could unload and have their cargo moved overland and then loaded on other vessels at Niagara-on -the -Lake.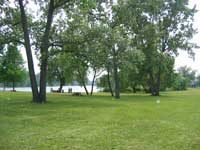 They then continued through Lake Ontario through the St Lawrence eventually to the Atlantic Ocean.
That all ended with the building of the Welland Canal. Chippawa now is a desired residential area with a thriving tourist area.
Parking: Charge in July and August only on Friday through Sunday $10.00
Facilities: Open-air Picnic Tables and Covered Pavallion, fishing, birding, hiking, partial wheelchair access, washrooms, reservations taken (for large picnic gathering in covered pavillion.)
For info call the Niagara Parks Police at 905 356-338 or email at nppolice@niagaraparks.com
Return home from Kings Bridge Park