Journey Behind the Falls
'Journey behind the Falls' is the best way, in my humble opinion, to appreciate the Falls. The sheer volume of water crashing down just a few feet in front of you is something i don't think you will soon forget. This is a must see for my visitors any time of the year.
- Advertisement -
Niagara Parks Commission first decided to evacuate a tunnel well behind the Falls in 1889. Guides led visitors through the tunnels with lanterns.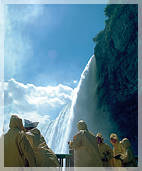 In 1951 an observation plaza was built at the end of the old tunnel 2 elevators descend 125 ft, to a 46 meter (150 ft) tunnel burrowed behind the thundering curtain of Niagara Falls. You can walk to within 10 ft of the tunnels end - there's water spraying everywhere. It's quite a memorable sight. And the raincoats you are provided are really needed when you 'Journey behind the Falls'.
Insider Tip -
Hang on to the raincoat when your tour is over. You will need it if you want to go and stand at the brink of the Falls. Depending on the direction of the wind, there can be a heavy mist.
Location: 6650 Niagara Parkway, Niagara Falls, Ontario
Cost: Adults $16.75, Kids 6 -12 $10.95, 5 and under Free.
Mid-December to mid-April: Winter rates are reduced when the attraction's Lower Observation deck must be closed due to ice conditions - date of rate change is weather dependent: $11.25 Adults (13+ years), $7.30 Children (6 to 12 years). The Upper deck is protected and remains open year-round.
Hours of Operation:
Open: Open year round
Opens:
9 a.m. daily
Closes:
Jan 1, 8pm
Jan 2-April 1, 5pm Daily
April 2-5, 7pm
April 6-May 1, 6pm Weekdays, 7pm Weekends
May 2-29, 7pm Weekdays, 8pm Weekends
May 21-24, 10pm
May 28-31, 10pm
May 30-June 19, 8pm Sun-Thurs, 10pm Friday, 9pm Saturdays
June 20-Sept 5, 10pm Daily
July 1-5, July 30-Aug 2, 11pm
Sept 6, 7pm
Sept 7-Oct 31, 7pm Sun-Fri, 8pm Saturdays
Oct 8-11, 8pm
Nov 1-13, 7pm Sun-Fri, 8pm Sat
Nov 14-20, 6pm Mon-Thurs, 7pm Fri-Sun
Nov 21-27, 6pm Sun-Fri, 8pm Sat
Nov 28-Dec 23, 6pm Weekdays, 7pm Weekends
Dec 24, 3pm
Dec 25, CLOSED
*Last ticket sold 30 minutes before closing.
This attraction is wheelchair accessible, except for stairs to the lower observation deck - however, the view from the upper observation deck is amazing!
Telephone: 905 371-0254
Links to other pages