Cham Shan Temple
Cham Shan Temple (Ten Thousand Buddas)- The 7 level Chinese style building contains precious collections of Buddhist arts and artifacts. Experience the tranquility and spirituality of the temple. Free guided tours during summer weekends from June to October.
- Advertisement -
Spreading the Dharma and benefitting all sentient beings are the Buddhist Order's vows. Since the appearances of statues and stupas facilitate the generation of the Bodhi-mind, raising temples could benefit sentient beings in countless multitudes.
Canada is renowned for its serene and picturesque environment. Niagara Falls is a popular sightseeing spot that attracts tens of millions of tourists each year. The wonders of the Falls, the thousands of billowing waves and the echoing sound of the tide are particularily inspiring.
A"World Peace Ten Thousand Buddhas Sarira Stupa Temple" has been constructed on 3 acres of land in Niagara Falls in order to facilitate the expounding of Dharma and the propagation of Buddhism.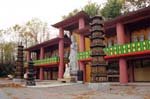 A Bronze Buddha Statue and a Bodhisattva Avalokitesvara's statue are situated in this property so numerous tourists and devotees can cherish this great chance to make offerings and pay homage to the Buddha.
4303 River Road, Niagara Falls, Ontario L2E 3E8
Phone: (905) 371-2678 Phone: (905) 371-2679 Fax: (905) 475-241
To leave Cham Shan Temple and discover more of Niagara, check out Home Page