Carriage Rides
It's amazing how horse drawn carriage rides just seem to frame a memorable experience. Slow down time with a leisurely tour by the Falls through Queen Victoria Park. Or the Botanical Gardens by the Butterfly Conservatory. The tour through the historic town of Niagara-on-the-Lake is quite grand. Tours can be enjoyed from May to August.
Enjoy a scenic tour with the family, a few friends or a quiet romantic time for just the two of you. With a knowledgeable guide and four tours to choose from, it's hard to go wrong.
- Advertisement -
The Queen Victoria Park/The Falls tour leaves from Victoria Park Restaurant opposite the American and Bridal Falls. Tickets can be purchased from the Victoria Place Gift Shop.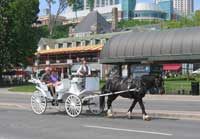 The tour leaves from in front of the store. And you don't need a reservation. The rates are per carriage with each carriage holding up to 6 people.
The Botanical Gardens tour departs from the south/west side of the Butterfly Conservatory. The relaxing pace and tranquil surroundings makes it feel like you are stepping back in time.
Pricing:
15 minute tours $45.00
45 minute tours $107.00
80 minute tour (from the Falls to Dufferin Island Conservation Area) $170.00
The Botanical Gardens tour $15.00 per person
Schedule:
May to August
Tour begins daily at 10:00 a.m. until 5 p.m. at the Gardens and until 11:00 p.m.by the Falls.
The tours are operated by Sentinel Carriages.
What's your Favorite Travel Tip?
Do you have a special tip that has proved useful, trip after trip. Tell us your secret, share your experience or just relive it again . . .
Links to other pages