People Mover
Modern Niagara Parks People Movers travel daily along one of the prettiest drives in the world... the Niagara Parkway. One low fee allows you to travel all day along the 30 km (19 mile) loop running from just above the Falls to Queenston Heights Park and return while entertained by commentaries of the sights and attractions operated by Niagara Parks. Leave the car and leave the driving and decision makers to other as your route covers most of Niagara's most popular sights.
You may get on and off different coaches for no additional fee. The buses are air-conditioned for your comfort. Courteous on-board conductors are pleased to assist you. As you are enjoying the many sites that Niagara has to offer it is so nice to take a break as you move between the sites.
These motor coaches stop approximately every 20 minutes at various stops along the route. Stops 1 through 12 travel northbound towards Queenston Heights Park. Stops 13 through 22 travel southbound towards the Falls. When I last enjoyed the PeopleMover on an especially hot day, I just mixed up my destinations so I could really cool down before I was ready to enjoy the next sight.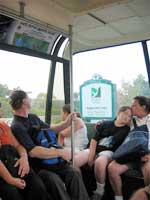 Your One Day ticket lets you use the Falls Incline Railway, the shortest and fastest way from the Fallwview Tourist area and the Table Rock Center and the brink of the Falls.
Cost:
One Day Rates
Adult $10.00*
Children 6-12 $7.00*
Children 5 and under Free
* Prices include tax
Dates of Operation:
Daily from April 15 to October 24, weather permitting. Regular service runs between Table Rock and the Floral Clock. Service between Floral Clock and Queenston Heights Park runs June 25 to September 5, weekends May 24 to June 24.
Park at the Rapidsview Lot and receive a Free Shuttle ride to Table Rock. Rapidsview Lot is open Daily June 25 to September 5, and Weekends and Holidays only May 24 to June 24.


Hours of Operation:
All Hours subject to change and may vary on Weekends or Holidays.
April 15 to May 6 from 10 a.m to 5 pm
May 7 to May 20 from 10am to 5pm Weekdays, to 6 pm on Weekends and Holidays
May 21 to June 24 from 10am to 6pm Weekdays, to 8 pm on Weekends and Holidays
June 24 to September 4 from 9am to 11 pm
September 4 to Oct. 24 from 10am to 5pm, to 6 pm on Weekends and Holidays
Perhaps you'd like seeing these pages