So Many Niagra Falls Hotels - Which Should You Choose




Looking for the best among Niagra Falls hotels... There are many to chose from as you are planning your trip. If its a memorable view of the falls from your room you want, you can't get much closer than the Crowne Plaza Niagara Falls. There are also an lot of wonderful medium-priced hotels and highly recommended cheaper selections.
The Crowne Plaza Niagara Falls" is a grand classic AAA/CAA 2011 3 Diamond 4 Star hotel that you won't soon forget. Formally known as the Brock Plaza Hotel, it has played host to both Royalty and Hollywood Legends including Marilyn Monroe when she was in Niagara Falls filming the movie "Niagara".
Crowne Plaza Niagara Falls Fallsview

Centrally located and just across the street from the Falls, the Crowne Plaza features direct indoor connections to the Fallsview Indoor Waterpark, Casino Niagara, Restaurants and Attractions, all part of the the Falls Avenue Entertainment Resort.
"Old world charm and superb service"
5 of 5 stars Reviewed April 18, 2012
Simply amazing hotel. What else can I say? Crown Plaza is now my favorite hotel in the Niagara area. It is directly across the Majestic falls and the buffet breakfast (which is amazing food-wise) overlooks these falls. How great is that first thing in the morning? There is a cross-walk that connects you from the hotel to the casino which... -Review at TripAdvisor

Hotel Accomodations:
Rainbow Room by Massimo Carpa the celebrated chef


Direct indoor connection to 3 acre Fallsview Indoor Waterpark


Separate indoor pool, whirlpool and kiddie pool


Shopping concourse


Wide varitey of restaurants within Falls Avenue Resort complex


Direct indoor access to Casino Niagara


Conciege


Room service from the The Rainbow Room by Massimo


Full service Business Centre.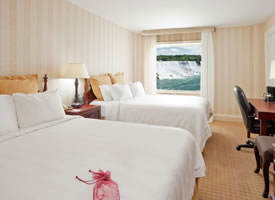 Guest Room Amenities:
234 guestrooms with half having views of the Falls


New Deep Sleeper Bed with 6 fluffy pillows


Newly renovated marble and tile bathrooms


Wireless high speed internet


Coffee maker


Desk and desk chair


Easy chair


Cable TV


Cordless speaker phone


Voicemail and dataport


AM/FM CD player


Alarm clock radio


Iron and ironing board


Full bathroom with hairdryer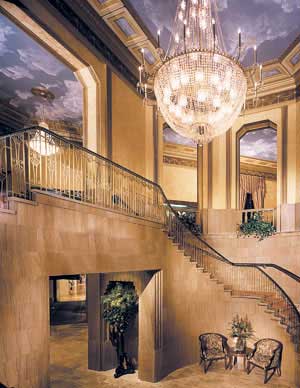 Address:
Crowne Plaza Niagara Falls
5685 Falls Avenue
Niagara Falls, ON
L2E 6W7, Canada
Still not sure if the Crowne Plaza is best of the Niagra Falls Hotels for you. Then take a minute and see why it is rated 4.0 out of 5 stars based on 507 TripAdvisor traveller reviews
Perhaps you'd like seeing these pages


Inexpensive but highly Regarded Accommodations