Looking up at the Falls with water spraying all around me
by Kim D
(Niagara Falls)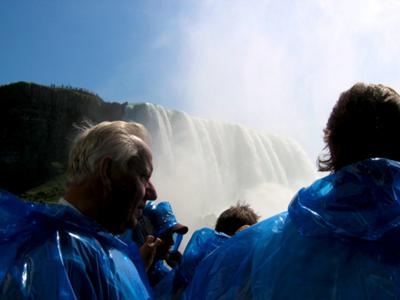 Even though i have lived in the Falls for most of my life, i had never tried the Maid of the Mist. But I am sure glad I finally did so.

What a memorable experience that was. It was on a slow day so there was not much of a lineup. The sun was shining and it was quite warm. We got our plastic raincoats and boy did we end up needing them.

I had my camera at the ready and I was not disappointed. After getting some good shots as we passed the American Falls, we were off for the large Horseshoe Fall. The water was starting to churn and the boat was moving around. However, as we got closer, the spray from the falls was getting heavier and heavier. I was taking pictures as fast as I could and I was not alone. With one hand sheltering the camera and the other clicking away it was a photographer's dream - except for the fact it almost felt like I was taking a shower. Cameras were exchanged as strangers took turn volunteering to take photos of excited passengers with the thundering falls as the background. It really was a special time and it all comes back to me when I proudly review the pictures I have.
Join in and write your own page! It's easy to do. How? Simply click here to return to Favorite Memory of Niagara.